Are you the victim of a home invasion? Squirrels, opossums, raccoons and other animals and insects are frequent unwanted house guests in the South. If your residence has been invaded by unwanted visitors from outdoors, call Borden. Our family has been serving families like yours by providing affordable wildlife control in Georgia and surrounding areas. We will humanely remove the uninvited guest/s and make your home safe again, without the threat of bites or diseases that accompany them.
In their natural habitat, wildlife is an important part of nature and a joy to behold. It is only when insects and animals enter your property and endanger people or destroy belongings and structures, that they become a nuisance. Did you know? Fires can also occur from faulty wiring when the insulation has been gnawed through by squirrels. It can also be very unhealthy for persons to co-exist with vermin inside their homes. Germs, diseases, and foul odors may also be present when wildlife takes up residence indoors. Are you also aware that animal and bird feces can be hazardous to many, particularly babies, elderly persons and allergy sufferers?
Call Borden for Wildlife Control in South Carolina, Too!
There is no peaceful co-habitation when an animal, bird, or insects move into your walls, attic, basement or outbuildings. In addition to health hazards, the structure itself may incur serious damage that is expensive to repair. The one solution is to schedule an appointment with Borden at (803) 764-3476. We're the family-run business to call when your Georgia property requires pest and wildlife control. South Carolina residents should not hesitate to call us as well. We have extensive experience remediating animal and insect pests including: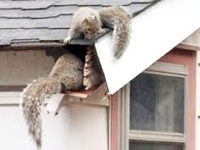 Birds
Yellow Jackets
Rats / Mice
Squirrels
Bees
Snakes
Bats
Dead Animal Odors
Raccoon's
Opossums
Georgia residents have relied on Borden for all their pest control needs for decades. However, Georgia is not the only area where home and business owners seek wildlife control. South Carolina has its share of pests that enter premises and refuse to leave. For the best pest control solutions including wildlife control, in Georgia, call Borden at (803) 764-3476, today, or click here to schedule an appointment.